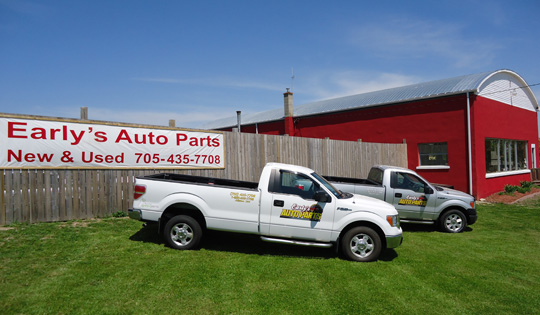 Welcome to Early's Auto Parts
Where you can find a complete Supply of New & Used Car and a full section of Truck Parts too!
If you need a replacement part for your car or truck, then Early's Auto Parts can help you! With over 32 Years of experience, Early's Auto Parts has collected and recycled used auto parts in Alliston areas and scrap cars that our community doesn't need anymore.
Early's Auto Parts has products you can rely On!
All of our used parts come LATE MODEL, LOW MILEAGE, INSURANCE SALVAGE FOR ALL PARTS, OLDER CARS FOR RECYCLING SCRAP and the used parts are always tested for quality before they are sold to you. Whatever car or truck you have, we can help! If the used part isn't in stock, we will help you find your part and order it, and we get new inventory in every day! Don't waste money on new car or truck parts; our used ones can give you the same if not more at a lower price!
Our Used Auto Parts are Price-Low!
Each of our used  parts comes with a 60-day replacement warranty, because we are confident in the quality of our products! This warranty makes buying used auto parts in Alliston at low-cost, and even environmentally friendly too! That's right, by recycling used car or truck parts in Alliston, you are reducing waste, giving you a greener environment!
At Early's Auto Parts We Specialize In!
While we have a huge inventory full of various used auto parts, our specialty is providing used parts for car, trucks, minivans, and SUVs. This specialization makes us a one-stop yards for car or truck owners, who want to save money on repairs and replacements! If you have a car, truck, minivan, or SUV, browse our inventory online or call us today to see how we can help you! You'll be surprised at how many parts we have available.
Early's Auto Parts is look forward to providing you with quality used auto or truck parts! For more information about our products and company, or to request a used car or truck parts, please contact us today! We'll save you time and money!